The AUD/USD, in particular, looks vulnerable to further downside range extension. After posting a technical double top at .7755 on August 10th and 11th on Thursday, the AUD/USD finished the week with two consecutive losses for the fist time in almost two months and the first close below the 30-day moving average since July 25th. Technically, the pair has been in a strong uptrend over the last three weeks but the RSI has now rolled over below the 50.00 level.
The 11.3% surge in building approvals (reported this week) was 10 times more than expected and the strongest reading in over two years. However, it was not sufficient to lift the Aussie above the high of .7580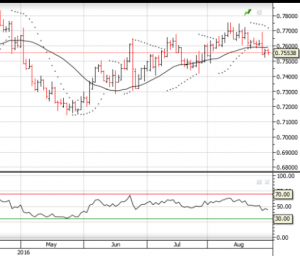 Leon has been working in the financial services industry for 18 years in management and advisory roles. Leon has extensive experience in general advice and dealings involving securities and derivative financial products.
PS 146 Securities & Derivatives, ADA 1 & 2 accreditation, Responsible Manager Certificate. Leon is authorised to provide financial product advice and deal with respect to the following financial products:
· Deposit Products
· Securities
· Derivatives
· Interest in managed investment schemes; and
· Government debentures, bonds and stocks