Star has entered into a private placement with its JV partners, Chow Tai Fook  and Far East Consortium to raise $490m at $5.35. The alliance agreement has been entered to build an additional 5 JV towers at the Gold Coast and one in Sydney.
The SGR board has revised the dividend pay-out ratio to a minimum of 70% of normalised EPS. The announcement was also accompanied by a trading update – Normalised group revenue for the March 18 quarter was up 19%.
FY19 revenue of $3 billon, EBIT $440m, EPS $0.33 and DPS $0.20 places SGR on a forward dividend yield of 3.7%.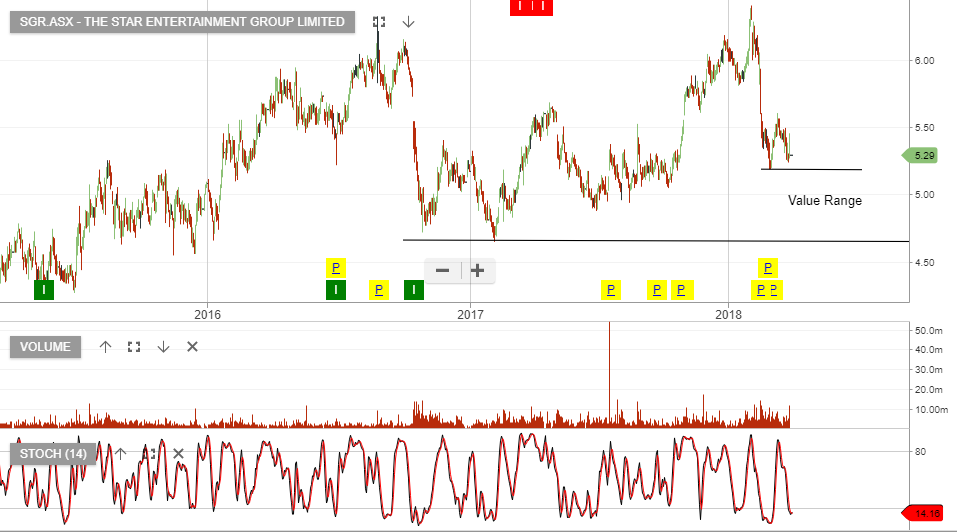 Star
Leon has been working in the financial services industry for 18 years in management and advisory roles. Leon has extensive experience in general advice and dealings involving securities and derivative financial products.
PS 146 Securities & Derivatives, ADA 1 & 2 accreditation, Responsible Manager Certificate. Leon is authorised to provide financial product advice and deal with respect to the following financial products:
· Deposit Products
· Securities
· Derivatives
· Interest in managed investment schemes; and
· Government debentures, bonds and stocks