Origin continues to form "higher high and higher low" price structures and remains one of the best performing stocks in our model portfolio.
The recent 4Q production report helps support the earnings recovery and we feel the share price trades within the $9.50 – $10.50 range.
4Q18 revenue of A$570 million was ahead of consensus with higher volumes and higher realized domestic LNG prices.
FY18 revenue is forecast at $15 billion, EBITDA $3 billion, EBIT $1.5 billion generating EPS of $0.55 per share.
In FY19 we expect earnings to grow by 20% and the company to payout 50% in dividends, placing the stock on a 3% forward yield.
In FY20, both increasing profit and payout ratio will then lift the dividend to $0.60 per share placing ORG on a FY20 yield of 5.5%.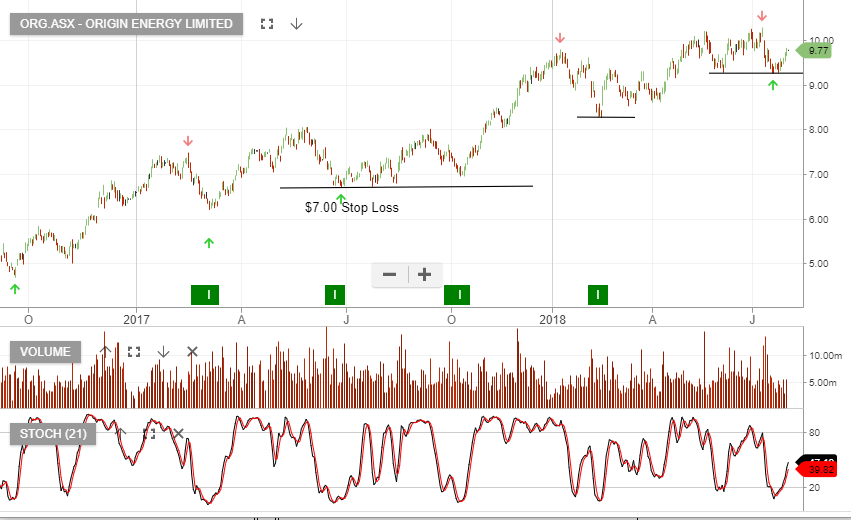 Origin Energy
Leon has been working in the financial services industry for 18 years in management and advisory roles. Leon has extensive experience in general advice and dealings involving securities and derivative financial products.
PS 146 Securities & Derivatives, ADA 1 & 2 accreditation, Responsible Manager Certificate. Leon is authorised to provide financial product advice and deal with respect to the following financial products:
· Deposit Products
· Securities
· Derivatives
· Interest in managed investment schemes; and
· Government debentures, bonds and stocks