ASX Listed ETF Signals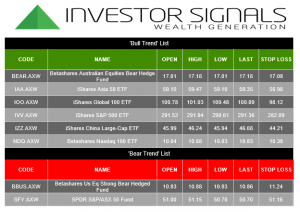 BEAR.ASX is an inverse ETF based on the ASX 200 index. We note in today's signals, BEAR.ASX has been triggered as a new bull trend. If you're confused on this, remember it's "inverse", meaning it will rise in value as the XJO 200 falls.
Leon has been working in the financial services industry for 18 years in management and advisory roles. Leon has extensive experience in general advice and dealings involving securities and derivative financial products.
PS 146 Securities & Derivatives, ADA 1 & 2 accreditation, Responsible Manager Certificate. Leon is authorised to provide financial product advice and deal with respect to the following financial products:
· Deposit Products
· Securities
· Derivatives
· Interest in managed investment schemes; and
· Government debentures, bonds and stocks