Long TCL.ASX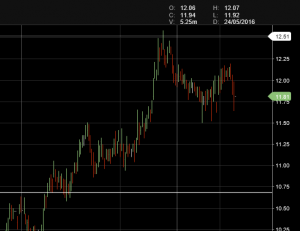 TCL reported 4Q16 traffic – trend remains positive for NSW, some softening is emerging in Melbourne and Brisbane. FY16 Proportional revenue across Australian roads was $1.7 billion. Look for FY17 dividend to increase from $0.45 in FY16 to $0.50 in FY17. This places TCL on a forward yield of 4.2%.
TCL is close to full value short term (12 month outlook) and should be complemented with a $12.70 covered call into March. We've collected an additional $0.50 for this call option and we expect to remain exposed to the $0.22 cent dividend in December. This trade allows for some capital gain if exercised. If TCL trades sideways, a combination of the dividend and the call option income creates approximately 10% cash flow on a stand still basis.
Leon has been working in the financial services industry for 18 years in management and advisory roles. Leon has extensive experience in general advice and dealings involving securities and derivative financial products.
PS 146 Securities & Derivatives, ADA 1 & 2 accreditation, Responsible Manager Certificate. Leon is authorised to provide financial product advice and deal with respect to the following financial products:
· Deposit Products
· Securities
· Derivatives
· Interest in managed investment schemes; and
· Government debentures, bonds and stocks