James Hardie (JHX.ASX) reported 2Q16 update and we see nothing here to stop the "buy on the dip" approach. We already hold this name (in client accounts) from lower levels and have sold the Nov $23 call options. For clients not holding this name, keep an eye out for our buy signal, I think we're not too far away from an entry signal being triggered.
The stock trades on 25X forward FY17 earnings and we're looking for EPS growth or around 15%. US housing data continues to look strong.
FY17 revenue in USD$1.9b, with EBITDA likely to be around USD$490m and USD$0.45 in dividends.
In AUD terms we're looking at around 3% forward dividend yield.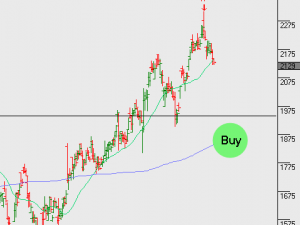 Leon has been working in the financial services industry for 18 years in management and advisory roles. Leon has extensive experience in general advice and dealings involving securities and derivative financial products.
PS 146 Securities & Derivatives, ADA 1 & 2 accreditation, Responsible Manager Certificate. Leon is authorised to provide financial product advice and deal with respect to the following financial products:
· Deposit Products
· Securities
· Derivatives
· Interest in managed investment schemes; and
· Government debentures, bonds and stocks