Brambles (BXB.ASX) is now approaching a buy signal entry point.
Our algorithm engines have alerted this setup and it's now worth establishing the entry conditions. The stock has just traded into the first level of the entry point band and we therefore, begin adding exposure.
In a weak market we could see BXB trade down to the lower range of the entry band, therefore, we split the entry parcel into two equal buy orders and place one at today's open and the remaining 50% parcel at the lower band price of $11.50. If both orders are filled, this will generate an average entry price of around $11.85.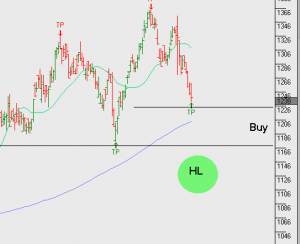 Leon has been working in the financial services industry for 18 years in management and advisory roles. Leon has extensive experience in general advice and dealings involving securities and derivative financial products.
PS 146 Securities & Derivatives, ADA 1 & 2 accreditation, Responsible Manager Certificate. Leon is authorised to provide financial product advice and deal with respect to the following financial products:
· Deposit Products
· Securities
· Derivatives
· Interest in managed investment schemes; and
· Government debentures, bonds and stocks